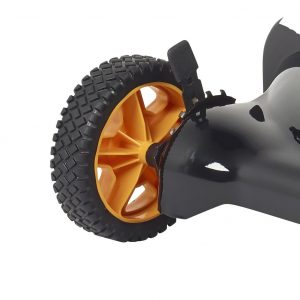 A pioneer in the field of manufacturing reliable outdoor equipment, Poulan Pro has been hailed for its massive range of lawn mowers. The
POULAN PRO LAWN MOWER
is an oil-based lawn mower for home-owners with basic requirements and limited budget. What's all the more alluring is the fact that this model comes mostly pre-assembled, pre-oiled and has a highly reliable Briggs and Stratton 140 cc Engine. You can easily alter the 21" steel deck to either mulch the trimmings or bag them for disposal. Weighed at around 60 pounds, this machine beats all conventional notions of a 'bulky, hard to manage' oil-run mower.
Ease Of Use
Having heard rave reviews of the Poulan Pro PR500N21SH lawn mower about 7 months back, I'd decided to test the machine myself. The good thing is that you don't need to break your head over assembling it, and it even comes pre-oiled. I noticed a slight oil leakage when I received the shipment, but I decided to ignore that and go ahead with using it. No doubt, it's pretty easy to move around and doesn't take a toll on your back like other fuel-based mowers. But to tell you the truth, the pull cord that would earlier start with 2 pulls has now gotten to irk me. It takes the yanking of a lifetime to get it started! And lest I forget, let me mention another major downer.The mesh-covered inlet on the fuel tank is so small that it's humanly impossible to pour oil into it without spilling!
Cut Quality
In all honestly, if your lawn is composed of multiple grass types, this is the mower to get, That is at least what I thought at the beginning my test period. This Poulan PR500N21SH powered push mower treats wild grass, small twigs and anything else in its path as the same. Once the cut height is set, it really does not differentiate with anything in its way. In fact, the maximum number of passes you will ever need with this Poulan Pro mower is two and that is only with a really soggy lawn.
I must admit that for the first 2 months, the cut quality of the Poulan Pro PR500N21SH was really good. It was only during the third month that it started halting so often that I had to call up Customer Support. Of course the mower was under warranty and I didn't have to shelve out any cash. However, despite the so-called 'motor-repairing' that was done by the technician, its cutting abilities certainly diminished. I've been repeatedly testing it ever since then, and I realized that for easily-mowable grass species like Buffalograss, the cut quality is satisfactory. But when it comes to thick patches of Zoysia or Fescue, you're left with an uneven and unsightly turf!
Product Info:
Walk Behind Lawn Mower
Petrol Mower
500E 140cc Briggs & Stratton engine
Features:
21 inch cutting deck
2-in-1 (side discharge and mulch capability)
4 Height Adjusters with 5 positions
7 inch front and 12 inch rear wheels
Weight: 71 lbs
2-years warranty